vs. incompleteness
Taking care of necessary details
To practice Thoroughness I will:
plan my work
pay attention to details
make a list so I don't forget
finish what I start
clean up along the way
"Practices that Improve Your Thoroughness"
Have you ever needed an item for a meeting but can't find it? (My hand is raised.) You know you had it in your hand earlier in the day but now it is has vanished. Being orderly with your work surface and punctual with your filing system whether it's paper or digital, will help keep you connected to what you need when you need it. It's a small detail but one that can derail the thoroughness of a task or meeting when you can't locate something.
How many times have you decided not to write something down because you will remember it? (I'm guilty.) Keeping notes of what happened when and who said what provides detail that keeps projects and tasks from suffering from a loose definition. Thoroughness is enhanced when the details are easy to recall.
Have you ever gotten to the end of the day and feel like the most important things didn't get done? (I've been there.) Taking time to plan your work and specifically your day, helps to ensure that those tasks that are most important are given the time they deserve. It's so easy to get bogged down in the unimportant tasks that seem critical. Prioritizing your work will give you the pleasure of looking back over a day or a week and see that you have thoroughly completed the most important work.
Have you ever multi-tasked and missed something important because your attention was divided? (Me, too.) Being focused on a single task aids in being thorough. There is more satisfaction when you are done, when you can look at the completed effort and see that it is accurate.
Being thorough takes time for planning, organizing, focusing, and recording. Planning your work and working your plan with diligence will feed your Thoroughness.
What practices will you use to improve your Thoroughness?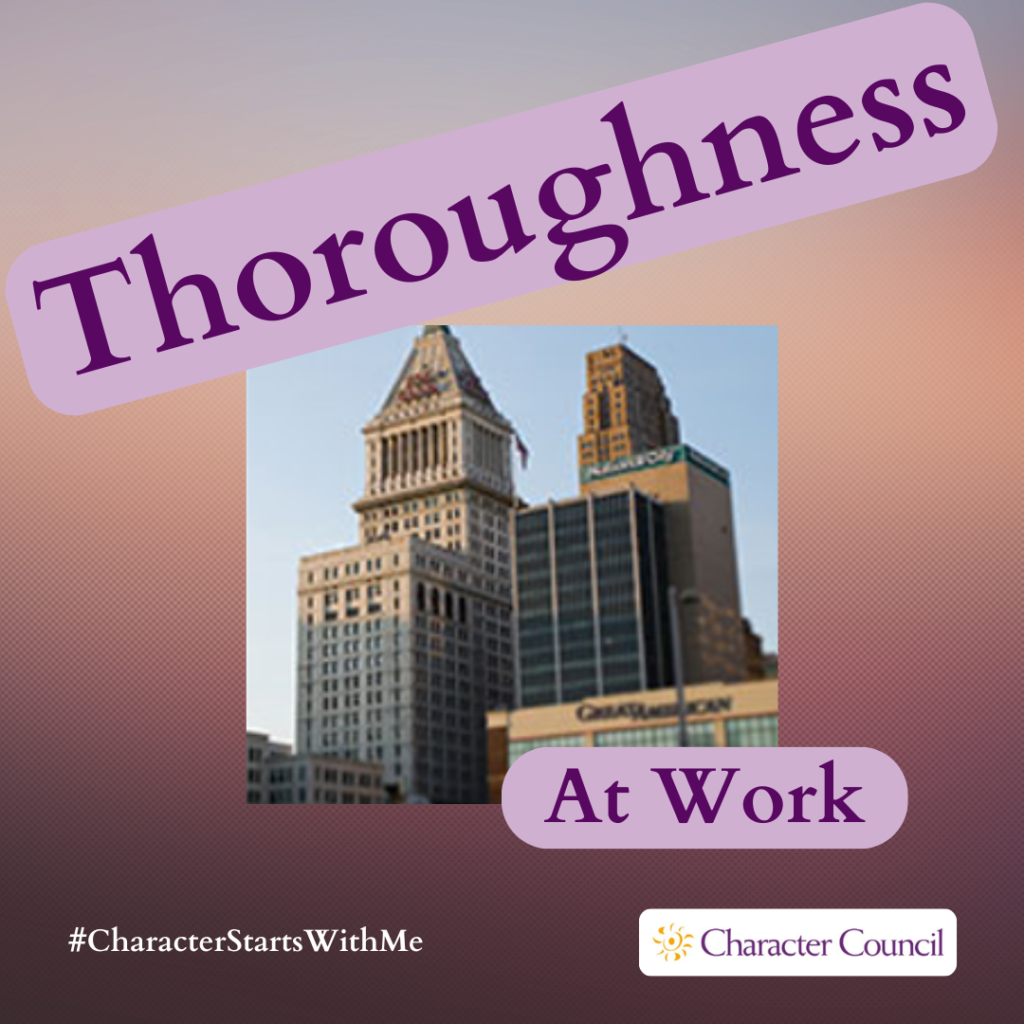 The Links below will take you to the most recent Team Building blog post and the previous posts. These are not related to a particular quality.
You will need a large venue for this game. Divide the group into smaller groups of 6 - 8 participants. Pair up the groups. If you have an uneven number of groups, you can have one set of three groups work together. Give each group a Beach Towel. The participants...