Compassion In the Community
vs.

 

indifference
Helping those who are hurting
To practice Compassion I will:
notice when others are hurting
be kind regardless of differences
listen when others want to talk
stop to help
treat myself kindly without indulging
"The Deep Well of Compassion"
I've often heard used and personally used the word compassionate to describe a person but it wasn't until I started studying character about 15 years ago that I really understood the true meaning. Compassion is often used as a synonym for loving or caring. While that may be true, compassion digs deeper to be healing or alleviating suffering – not just being kind.
In preparing to write this essay, I Googled Compassion and was amazed at how much I found and in so many different areas. Compassion has been studied in Psychology, Neurology, Anthropology, and Medicine. There are yoga classes to help increase your compassion. Your brain's changes during compassionate activity have been mapped as well as compassion's effect on your heart rate, stress response, relationships, immune system, and workplace. Compassion has been ranked a great virtue in numerous philosophies and in almost all the major religions' wisdom literature.
So how does all that science and philosophy translate to me in my everyday life? I'm not in a healing profession or social work. I worked in technology. (According to 'the Google' there is a magazine, a company, a lab, and a .org website all dedicated to 'compassionate technology' – really!)
All of this attention to Compassion tells me, it's big, it's deep, it's life-changing! It's life-giving to the receiver and the giver. It requires being sensitive and responsive to others' needs.
When I dip into the deep well of compassion I see it changing my perspective. It involves having a totally different response when it comes to how I perceive others. For example, instead of assuming the reason someone has done something that hurts me is that they are selfish or inconsiderate, assume instead that they had a good reason for doing it. I can't possibly know what someone else is dealing with that may cause them to cut me off in traffic, ring my order wrong, forget my birthday, or say/do something that hurts my feelings. If my mentality is one of compassion, my response is forgiveness followed by understanding. By no means does compassion make me a doormat but it does combat the victim mentality in which many of us find ourselves.
This month, how will you dip into the deepness of Compassion and find a life-changing perspective?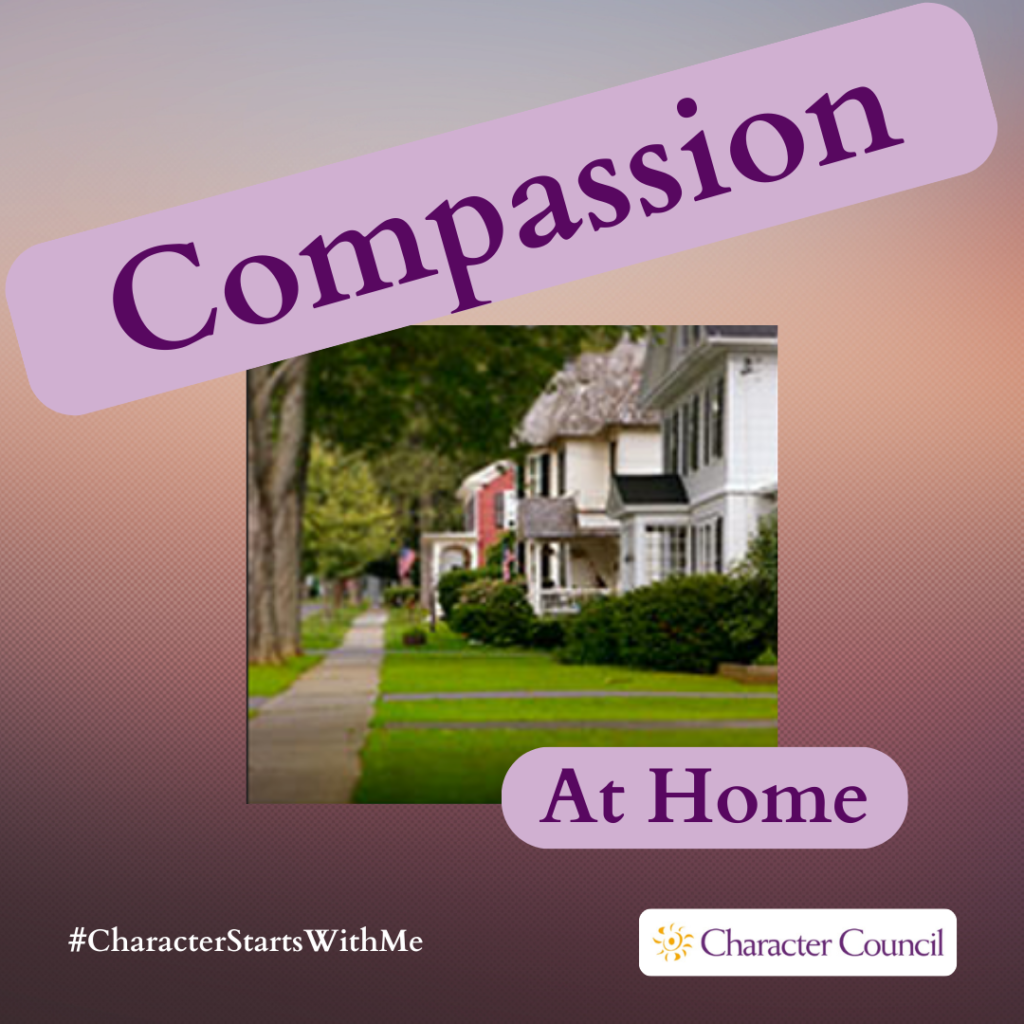 To prepare for this activity, get an old tarp or an old blanket and cut several holes in it. You will also need a ball, smaller than the holes that you cut. Have the group stand around the outside of the tarp and each hold onto the edge. Have them step outwards so...
See NationalToday, Checkiday and Happy Days 365 for more information on these and other holidays to celebrate this month. 1 Extra Mile Day How will you go above and beyond on #ExtraMileDay?  You are an agent of #Change no matter how small the action.  #Generosity ...
Idea #1The Character Council has a program called the Kinder Character Challenge. Every Friday, we email a challenge for a kind deed to participants. The timeframe for performing that deed is the following Sunday through Saturday, but we really don't mind when you do...
Thanksgiving is a national holiday with a focus on Gratefulness. This Thanksgiving, post a whiteboard, chalkboard, or poster board where those gathered for Thanksgiving can write public statements of what they are grateful for this year. Leave it where anyone can...