vs.

 

faintheartedness
Overcoming obstacles in order to reach my goal
To practice Determination I will:
set goals that are right for me
avoid distractions
not allow others to discourage me
face problems head-on
see obstacles as a challenge
"Be Your Very Best in the Darkest Moments"
Naval Seal Trainee McRaven tells of the final test of the Dive Phase of training. In the dark waters of the San Diego bay, swim pairs needed to swim 2000 meters underwater to a 'target' ship and place their practice limpet mine on the hull. They only had a small green chemical light to illuminate their compass. Missing the target could mean ending up in the shipping lane. The instructors knew that this assignment held the most danger for injuring or losing a recruit. The instructors explained how dark the waters were, especially under the ship and that staying with your swim buddy was crucial. They encouraged the swimmers to rise above their fears, their doubts, and their fatigue. No matter how dark it got, they needed to complete the mission.
The Admiral carried these instructions with him throughout his career. Whenever times were dark, he dug deep to bring out his best. Fallen soldiers created the darkest of times. Ramp Ceremonies brought out the best despite the darkness. Fellow soldiers dug deep to pay incredible honor and respect to the fallen. It recognized the ultimate sacrifice of the lost and the family and friends they left behind. As part of the final show of gratitude, Isaiah 6:8 is read. "And I heard the voice of the Lord saying, 'Whom shall I send and who will go for us?' And I said, 'Here I am. Send me.'"
The Admiral concludes this chapter with, "At some point, we will all confront a dark moment in life. If not the passing of a loved one, then something else that crushes your spirit and leaves you wondering about your future. In that dark moment, reach deep inside yourself and be your very best."
The quote from Isaiah in this chapter speaks to all of us. Each of us is called to live out our baptismal mission. When times are dark, we need to dig deep within our Faith and be determined to complete that mission.
This month, how can you be Determined to overcome dark times with your best?
(All the essays this month are based on the book, Make your bed: little things that can change your life…and maybe the World by Admiral William H. McRaven (U.S. Navy retired). It is about the lessons he learned in Navy SEAL training that served him well his whole career. The training is beyond brutal to weed out the weak and give confidence to the strong. It takes strength and the ultimate Determination to make it to graduation.)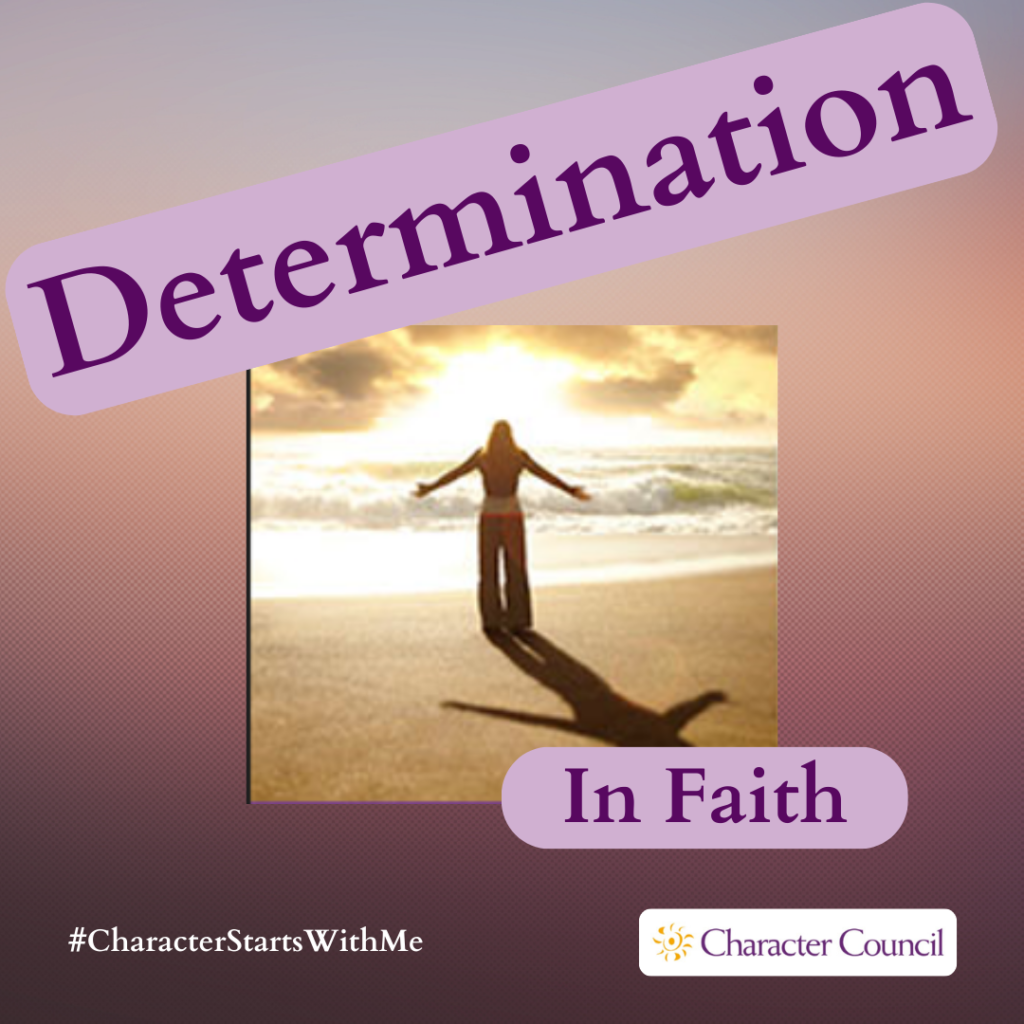 Archived Bulletins on  Determination
Children and Family Resources