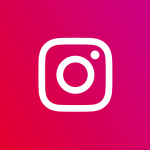 Love the quote images you see below? Follow us on Instagram for more like them throughout the month!
"Things don't go wrong and break your heart so you can become bitter and give up. They happen to break you down and build you up so you can be all you were intended to be."

– Charles Jones
"When we face the worst that can happen in any situation, we grow. When circumstances are at their worst, we can find our best."


– Elisabeth Kübler-Ross
"If you're going through hell, keep going."

– Winston Churchill
"I don't measure a man's success by how high he climbs but how high he bounces when he hits bottom."

-George Patton
"Failure is not a sign of weakness. It is a sign that you are alive and growing."

-Buzz Aldrin
"It is not the strongest of the species that survive, nor the most intelligent, but the one most responsive to change."

– Charles Darwin
"It may sound strange, but many champions are made champions by setbacks."

– Bob Richards
"Wow! A brand new day for new beginnings and new decisions. It is time to refocus, renew, refresh, brush up the resolutions, re-energize and to recommit. I love second chances."
-Caroline Naoroji
"Although the world is full of suffering, it's full also of overcoming it."
—Helen Keller
"What the caterpillar calls the end of the world, the master calls a butterfly."
-Richard David Bach
"Our greatest weakness lies in giving up. The most certain way to succeed is always to try just one more time."

– Thomas Edison
"It's the bounce that counts! Picking ourselves up after life's hurdle."

– Tessa Bielecki
"We are not a product of what has happened to us in our past. We have the power of choice."

– Stephen Covey
"Our greatest glory is not in never falling, but in rising every time we fall."

– Confucius
"She stood in the storm, and when the wind did not blow her way she adjusted her sails."

– Elizabeth Edwards
"Only those who dare to fail greatly, can ever achieve greatly."

– Robert F. Kennedy
"The greater the obstacle, the more glory in overcoming it."
—Moliere
"New beginnings are often disguised as painful endings."
—Lao Tzu
"Success is not just the crowning moment, the spiking of the ball in the end zone or the raising of the flag on the summit. It is the whole process of reaching for a goal and, sometimes, it begins with failure."
-Erik Weihenmayer
"Men succeed when they realize that their failures are the preparation for their victories."
-Ralph Waldo Emerson
"And suddenly you know – it's time to start something new and trust the magic of beginnings."

– Meister Eckhart
"And thus, like the wounded oyster, he mends his shell with pearl."

– Ralph Waldo Emerson
When life puts you in tough situations, don't say 'Why me?' say, "Try me!"

– Unknown
"Turn your wounds into wisdom."

– Oprah Winfrey
"I can accept failure, everyone fails at something. But I can't accept not trying."

– Michael Jordan
"Blessed are the flexible, for they shall not be bent out of shape."

– Unknown
"The world breaks everyone, and afterward, some are strong at the broken places."

– Ernest Hemingway
"You never know how strong you are, until being strong is your only choice."

– Unknown
"Mistakes are the portals of discovery."
—James Joyce
"Falling down is part of life. Getting back up is living."
-Anonymous
"Vitality shows in not only the ability to persist but the ability to start over."
—F. Scott Fitzgerald
How can you use Quotes?
Start a discussion: Quotes can start a discussion about a character trait at the beginning of a meeting or the dinner table. You can ask questions about what it means, how they have seen the trait demonstrated in their own lives, or how they can develop it themselves.
Provide a model: Quotes can provide a model of good character. When you read a quote from a famous person or historical figure, you show that people they admire also value the same character traits.
Use quotes as writing/journal prompts: Ask them to write a short essay about a quote to help them think more deeply about its implications for their lives.
Post quotes: You can post quotes where they will be seen/heard often – classroom, breakroom, lobby, dining room, email signatures, video bulletin boards, morning announcements, social media, etc.
Read quotes aloud: You can read quotes aloud to your children during mealtimes, bedtime, or any other time you spend together.
Make it fun:  You can make it even more fun by incorporating games, activities, or crafts. Let children decorate signs with the quotes to hang in the classroom or a bedroom door. Record children saying it and post it on social media.