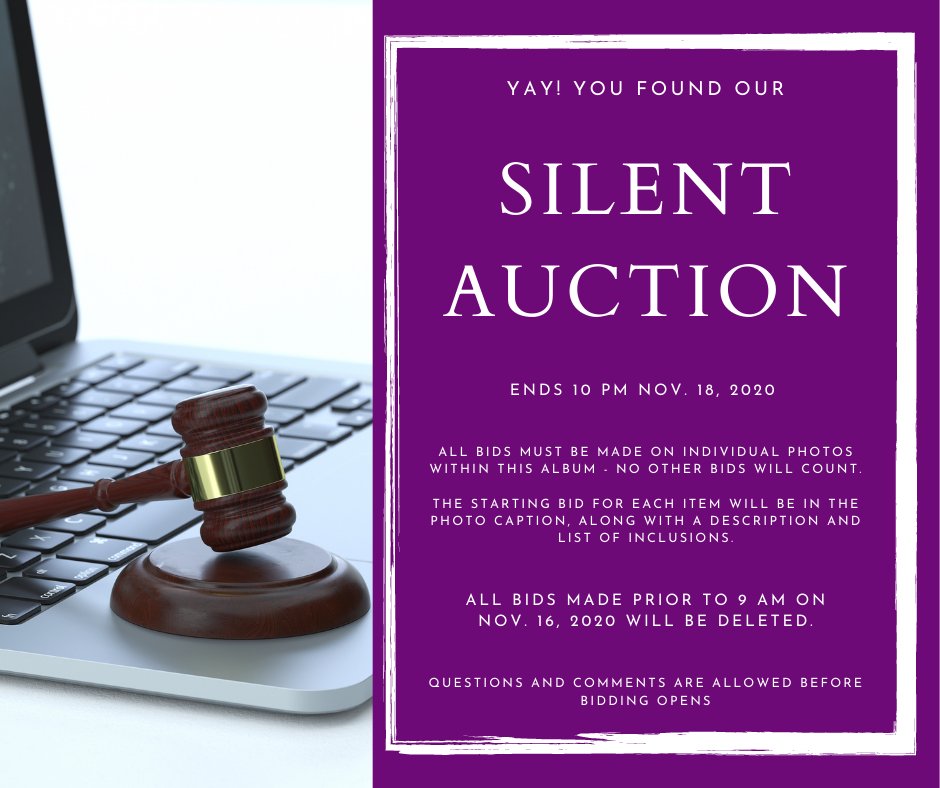 As with everything, we have adapted the Silent Auction to meet our virtual needs. As mentioned on the Virtual Event Dashboard, the Silent Auction is hosted on Facebook this year. Click the button above to request access to our private event's Facebook group. Once admitted, you'll find an album called "Silent Auction". The first few pictures help explain, as does this post, how the Silent Auction will work.
The Silent Auction will run from 9 AM EST Monday, November 16, 2020 through 10 PM EST Wednesday, November 18, 2020.
All bids must be made on individual photos within the album in the Facebook Group – no other bids will count.
Bids must be made in whole dollar amounts. There is no minimum increase amount. Placing a number in the comment section is considered a valid bid.
The starting bid for each item will be in the photo caption, along with a description and list of inclusions.
By bidding on a Silent Auction item, bidders agree to these rules.
All starting bids will be listed in the caption on each photo – please make note of this as you browse. If you are local to the Tri-State Area (in and around I-275), we will offer local pickup or delivery at no extra charge. If you are not local to the Tri-State Area, shipping charges will be determined by the weight and size of the item(s) and calculated at the time of checkout. Some items, especially those containing alcohol, cannot be shipped and will be local pickup only.
Comments and questions are allowed on the photos, and we will do our best to answer in a timely fashion. You can also message the Character Council's Facebook Page if you would like to keep your query private.
Bids will only be accepted online during the open bidding time stated above. All bids must be in whole dollars.
The Character Council reserves the right to add or withdraw items, without notice, from the Silent Auction.
Payment and Shipping
Please bear with us as we try to make this as easy as possible, both for our bidders and for our volunteers!
Winning bidders will be notified immediately following the closing of the auction via the comments of each item. Either in the comments or via Facebook Messenger, we will need a valid email address and if the item(s) will be picked up or shipped – and in the case of shipping the zip code for delivery. Within 24 hours of the close of the auction, we will email an invoice and payment link for the item(s) and shipping charges if applicable. Payment will be accepted online via credit card, or if the winning bidder is local, we will accept payment via check at delivery or pick-up. Winners must pay within 24 hours of receiving their invoice or they will forfeit
their bid and the next highest bidder will win. Items will not be released or shipped without payments.
During the week following the event, we will finalize all packages and ship any items, providing a tracking number once it has left our care. Items being picked up or delivered locally need to make arrangements with one of our volunteers.
Terms:
The Character Council reserves the right to add or withdraw items, without notice, to or from the Silent Auction. Auction item purchases are final. No returns or exchanges will be issued, nor is it possible for expiration dates to be extended. All items are "as-is". All provisions listed in the certificates are subject to availability. The Character Council provides no guarantees, warranties, or servicing of auction items and is not liable for any personal injury or damage to property that may result from the use of the item or service sold. Any bids not made in whole dollar amounts will be declared invalid and void. Bids may be placed on items in the Silent Auction until the declared closing time, and the official time will be based on the timestamp of the comments on Facebook. Any bids with a timestamp later than 10:00 PM EST will be declared invalid and void. Once the Silent Auction is declared closed, the last bid entered on the comment section that adheres to the designated criteria will be the winning bid and will be so marked by one of the Facebook Group Admins. In the event of a dispute, the Executive Director (Jacqueline Schmucki) will act as the final authority. The winning bidder will be contacted to arrange for payment (credit card, check) and delivery method. Once payment has been processed, arrangements for pick-up/shipping of the item will be determined. Payment for items purchased must be made in full. We accept credit cards processed through a payment link, or personal checks made payable to "Character Council". Invoices will be available upon request. Any item left unclaimed will be offered to the next highest bidder and sold.